Image Source: Busybee Crafts
Here is a fun creative arts activity that allows children to make creative designs using paint. Why do children need creative arts activities? According to Sarah Gable in her article "Creativity in Young Children", "Creativity is more than a product — it's a process. An interesting painting, a thought-provoking writing, or a unique response, may be examples of creative work, but the decisions people make as they paint, sculpt, write and think are at the core of the creative process. The objective of this publication is to broaden understanding about the creative process for parents and others who work with children and youth…Art and music are common examples of creativity, but you can find creative thought in almost all aspects of life — from the way a parent quiets a crying child to the methods a scientist uses to discover a cure for a disease."
Preschool teachers and daycare providers have the opportunity to promote creative development by providing art activities that explore media and materials and encourage imagination. This painting creative arts activity is an excellent example of an activity that provides the opportunity to for expression, to encourage spontaneity in material usage, and to introduce children to textured materials. It is also a good way to discuss patterns and textures.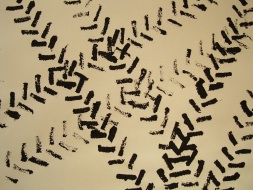 This lesson plan includes a materials list, preparation instructions and procedures for this activity to make your childcare job easier. There are also age appropriate learning objectives and a sample of the simple supporting verbal cues necessary to encourage participation and support learning.
Tire Track Painting Materials List
For each child, you will need:
Empty toilet paper roll
Pipe cleaner (any color will do)
Glue
kitchen scissors
Art paper
Paper plate
Paint in a variety of colors
Activity Preparation and Procedures
Preparation
Cut the pipe cleaners into ¾" to 1″ long pieces. Glue them onto the toilet paper roll diagonally, one in front of the other. Be sure to glue the pipe cleaners at the edge of the toilet paper roll. Then, Glue the pipe cleaner pieces all around both edges of the tp roll. Let the glue dry. Create one for each paint color.
Cover the activity table in butcher paper
Pour paints into small shallow containers.
Place all of the other materials on the activity table.
Instructions:
Invite the children over to the activity area and explain that you will be making tire track designs using a roller and paint
Help children roll the roller in the paint colors and roll it on the paper to create designs.
Allow to dry.
Tire Track Painting Lesson Objectives
Objective 1
To provide the opportunity for expressive activities by encouraging the children to create tire track designs.
Verbal Cue A: Today we are going to make tire tracks on the paper.
Verbal Cue B: Would you like to make designs on the art paper with the roller and paint?
Objective 2
To encourage spontaneity in material usage by allowing the children to choose the colors for their painting.
Verbal Cue A: What color tire tracks would you like to make?
Verbal Cue B: Would you like to choose another color of paint?
Kids will have great fun in your childcare center while learning about colors and expressing themselves creatively.
Related Posts:
Leave a Comment
More Daycare Resources